Friday, March 15, 2019 / by Thea Limon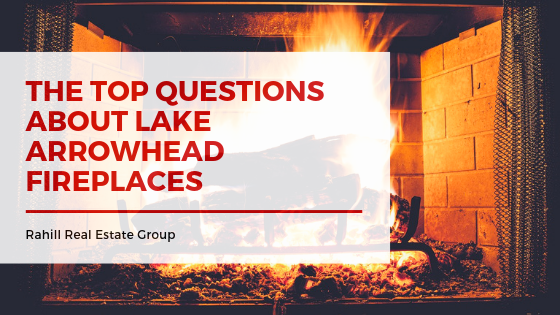 One of the most sought after aspects when buying a Lake Arrowhead home is the atmosphere of living in the mountains. Renters and full-time Lake Arrowhead homeowners want to experience the winter season of Lake Arrowhead.
A fire crackling in the background as they gather together with their family is exactly what they're looking for! Yet, if you've never owned a fireplace before, you may have some questions.
How do you use a Lake Arrowhead wood-burning fireplace?
1. Have your chimney inspected.
Before you do anything with your fireplace, have it inspected for your safety. Make sure the person who is inspecting your chimney is a licensed professional. Before your first fire of every winter season, have this done. It's an annual inspection to keep you and your family safe.
2. Get the fireplace ready!
If there are any old ashes in the fireplace, it's time to clean those out. Too many ashes can make it difficult to start your fireplace. Also, it doesn't look as pretty! For vacation rentals, you will want to ask your vacation management company how many times a season they clean out the ashes. The more they do it, the bigger a bonus it is.
Gather up all the firewood needed for your fire and buy a fire starter, if you've never started a fire without one before. There are different types of wood that you can buy for your Lake Arrowhead fireplace, but it is up to you which one you choose. Some wood burns longer than others but are more expensive. Make sure the wood you have has been left out to dry for, at least, six months. Wet wood makes it almost impossible to start a fire.
If you don't want to buy a wood starter at the store, you can always try a newspaper or pinecones. They're both great options to help you start a fire.
3. Prime the flue.
Priming the flue of a fireplace is to stop "heavy air" or cold air from filling up the room with smoke. It's a great habit to get into to prime the flu every time you are about to use your fireplace. Typically, if you don't do this step, then the air will eventually warm up enough on its own but not before smoke fills up the room.
According to Chimneys.com, "Roll up a piece of newspaper, light one end, and hold it way up in the damper opening. You might need to burn two rolls of paper. In a minute or so, you will feel the draft reverse, as the warm flue gasses start to move up the flue. Once you have primed the flue, you can light the fire. If you have a severe cold-chimney problem, and the newspaper trick doesn't seem to be working, try leaving the damper open for half an hour or so, allowing heated room air to gradually reverse the flow."
4. Start the fire.
Now you're ready to start your fire! Once you have started your fire, make sure it doesn't go out by using the poker to get air flowing throughout and by adding more firewood when needed. What's next? Nothing but sitting back and enjoying the warmth during those cold snowy days.
Are Lake Arrowhead fireplaces safe?
Fire, in general, is unsafe, but don't let that stop you from getting a fireplace. It's all about knowing how to properly maintain your fireplace and be safe in the process. Knowledge is key. For example, make sure the damper is open, and the house is ventilated to keep your house from filling up with smoke.
Test your smoke and carbon monoxide detectors on a monthly basis.
Keep any flammable objects and materials away from the fireplace.
Be aware of the mesh screens, tools, and glass doors becoming very hot. Don't let children touch them directly but rather consider using a free-standing barrier.
Inspect your fire extinguishers and review any evacuation routes with your family in case of a fire.
Should you clean your chimney often?
Yes, you should have your chimney cleaned whenever there is a layer of residue that is around 1/8 of an inch thick to avoid any chimney fires. Not only does a buildup of soot have an unpleasant appearance but it can reduce the airflow that can cause smoke to back up, creating a fire risk.
Make sure a licensed professional is inspecting your chimney annually. If you are attempting to clean the inside of your fireplace, wear a dust mask to protect yourself from the ash. Sweep out all the ashes and scrub the surfaces of the fireplace with a brush and dishwashing liquid to finish the cleaning process.
Fireplaces are a huge bonus for vacation renters. There is nothing more magical than watching snow drift softly down as a fire pops in the corner of the room. If you're interested in selling your Lake Arrowhead home or buying, make sure to contact a local Lake Arrowhead Realtor who knows the market and area you're interested in.
---