Tuesday, October 19, 2021 / by Ryan Foley

Big Bear real estate agent reviews are all over the internet but unfortunately you have to go to a variety of sources to find them. Keep reading to find out where to find them, what to look for in an agent review or testimonial, and what questions to ask before you hire a Big Bear Realtor to represent you.

When the quality of your agent can save you (or cost you) tens of thousands of dollars it makes sense to do some research before hiring a real estate agent. Some people spend more time shopping around to save a few bucks on a TV than they do selecting the person they will entrust with negotiating the purchase or sale of their most valuable asset. Too often I hear stories of real estate transactions gone horribly wrong but it doesn't have to be that way. Choose the best Big Bear real estate agent from the start and you dramatically improve your chances of having a great home buying or home selling experience. There are about 300 real estate agents in the Big Bear valley but only a handful are full-time, professional real estate agents earning their living through real estate sales. Follow these tips on how to hire the best Big Bear real estate agent for the job and you will be delighted with the professionalism and service you receive.
What to look for in a Big Bear Real estate Agent review
Look for a five star rating

Look for signs that the agent is honest and trustworthy.

Look for signs that the agent has great marketing.

Look for signs that the agent is a great negotiator.

Look for signs that the agent is a great communicator.
Where do I find reviews for Big Bear Real Estate Agents and testimonials I can trust?
Yelp, Zillow, and Google Places are the three most trusted sources for real estate agent reviews. They all have systems to detect fraud and monitor the identity of reviewers which keeps reviews fair and impartial. Zillow and Trulia both have methods of confirming that the reviews are left by actual participants in the real estate transaction. To see how those reviews should look, you can check out our reviews for the Rahill Real Estate Group at Yelp, Zillow and Trulia below.
http://www.yelp.com/biz/rahill-real-estate-group-big-bear-big-bear-lake
http://www.zillow.com/profile/WillRahill/Reviews/
Google Places

If you go to the agent's business facebook page, you may find that one of your friends has first-hand knowledge of the realtor in question. To find out, click on the thumbs up graphic that displays the number of "likes" the person has, and Facebook will show you any of your friends who happen to like that agent's business too. If you find your friends there, give them a call and find out what they like about that Big Bear Realtor.
https://www.facebook.com/RahillRealEstateGroup/
You can use a similar approach for Linkedin but you may have to request to link up with the agent before you can see their full profile. The added benefit of viewing the agent's profile is that you get to read reviews there, and you can also see how many people have endorsed them for various areas of expertise in the real estate field.
www.linkedin.com/in/mybigbearrealtorwillrahill/
Read the testimonials on their agent website, but read them with a grain of salt. Testimonials can be easily manufactured. If they have any bad ones, you can bet those won't make it onto their site. If the testimonials have the full author names then you may spot someone you know. That may give you confidence in the credibility of the testimonials.
www.SearchBigBearRealEstate.com

How do I find an agent to list my Big Bear home?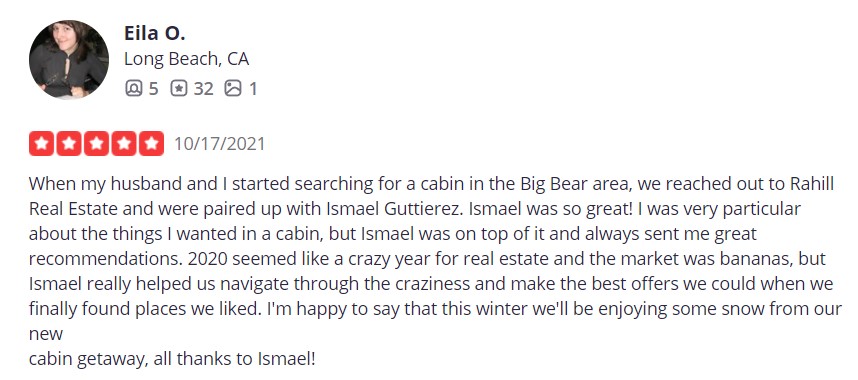 Check the internet! Buyers for Big Bear real estate are going to be searching the internet. Pretend you are a buyer. Go to Google and type in anything you think a buyer might type to find a home similar to yours: "Big Bear Lake Real Estate", "Big Bear Cabins for Sale", "Big Bear Lakefront Property for Sale", "Moonridge Homes for Sale", etc. Be as creative as you want. Try being general, "Big Bear Real Estate," and try being specific, "Foxfarm home for sale." Check to see whose website shows up for the top three search results, and which of the sites seems the most user-friendly. Which site would you choose to search on if you were a buyer? If you find Zillow, Redfin, or Realtor.com in the top three results then ignore those for now. We will visit them later when looking for agent reviews. What you want to find is which Big Bear Realtor has invested the most time and money in internet marketing because marketing drives demand and demand drives price.
What Questions should I ask before hiring an agent to list and sell my Big Bear property?

How long have you lived in Big Bear? Find an agent who lives in Big Bear to assure they have the local area knowledge and connections with other local agents, home inspectors, termite inspectors, escrow companies, and other affiliates to get the job done correctly.

Will you list my home in the Big Bear MLS system? If they don't belong to the Big Bear Association of Realtors and they don't have access to the Big Bear MLS system then the interview is over. It is possible to sell a Big Bear home when it is listed in a non-Big Bear MLS, but the likelihood of it selling for the highest possible price is remote. Most homes sold in Big Bear are sold by agents belonging to the Big Bear MLS system. So if you are not in it, you miss out on your exposure to the agents representing the majority of all Big Bear home buyers. Lower demand for your Big Bear property will result in a lower sale price.

How many Big Bear properties did you sell last year? If they've sold very few properties in Big Bear, beware. They are a part-timer or a new agent without the experience and systems in place to get you the most money in the shortest time with the least amount of hassle. As a benchmark, our team sold 192 Big Bear properties last year (about one every 1.9 days) and we are on track to sell over 210 Big Bear properties this year.
Do you use a professional photographer? You would cringe if you saw some of the pictures that agents put out on the internet to represent their client's properties, blurry photographs with poor lighting and thumbnail sized. The way your home is represented photographically on the internet may be the single most important factor in the amount of money you will receive for your property, and how quickly it sells. Make sure they use a professional.

Do you make a virtual tour of properties you list? If they understand the importance of professional photography they will always create virtual tours that can display the photographic images in high resolution despite the MLS photo resolution limitations.

Will you please show me all of your current listings on the internet? Have them show you all of their current listings on the internet so you can see for yourself that they always use a pro photographer. If you find any of their listings on the internet where they were lazy with the photos and didn't use a pro I would steer clear. Check the property remarks for spelling and grammar to see how detail oriented their marketing staff is.
What is your marketing plan for selling my property? Have them walk you through all the things that they are going to do to market your home. Any agent can put up a sign, put a lockbox on, and put it in the MLS. What are they going to do above and beyond what all agents do? Does it sound like it will work? Do they sound confident in their abilities to get it sold?
How will you communicate the results of your marketing so that I know what is going on with my Big Bear property? A good agent will ask you how you like to be communicated with and how often. At the bare minimum you should receive results of the internet marketing weekly through emailed reports so you can monitor interest in your property to see if you have it priced properly. A good agent will follow up with all showings for feedback from other agents and buyers, and communicate that feedback to you on a regular basis.
Who will take care of my property on your days off or when you are ill or on vacation? This is where it is beneficial if the agent is part of a high functioning team. Everyone needs days off sometimes, everyone gets sick at times and everyone takes vacations but the job of a real estate agent is never done. From the day the listing contract is signed to the day the property closes escrow there should be someone with intimate knowledge of the property ready to jump at a moment's notice to show the property to an out of town buyer who just called from the sign or handle any complications or offers on the property. Particularly in Big Bear's resort market where most homes are second homes and vacation homes, there should always be someone on the scene to handle any kind of inquiry or emergency that may arise in the home selling process.
How does your Sale Price to List Price Ratio compare to the Big Bear market average? Knowing their sale price to list price ratio in relation to the market average will tell you how good they are at marketing and negotiating. For instance if the average Big Bear house is selling at 96% of list price but they are achieving 98% for their listings then that tells you they are doing a better job of maximizing seller profits than other agents in the Big Bear Valley. In Big Bear, a really good listing agent can usually beat the market by about 3% and a weak agent usually trails the market by about 3% so there is about a 6% difference in the seller's pocket by simply choosing a great listing agent over a less skilled one. On a $450,000 house that is a $27,000 difference in profit to the seller simply by choosing the right agent.
Can I get out of the listing contract if necessary? The biggest risk you take when you list a home is that the agent will promise you the world when fighting for the listing, but they will flake out when it comes to fulfilling all the promises they made to you. You don't want to be locked into a listing contract with any agent. Don't sign the listing contract unless it says something like, "Seller may cancel this listing at any time and for any reason prior to receiving an acceptable offer. Seller decides what is acceptable." If you fail to find a great real estate agent the first time around, fire them and pick another. Make sure that you are not contractually obligated to pay that agent a penny unless they sell your Big Bear property. By demanding this clause in the listing contract, you force your agent to be accountable, and only a confident and competent agent will accept this clause.



How do I find an agent to help me purchase a Big Bear home?
What you seek is a Big Bear buyer's specialist. A buyer's specialist is someone who does not divide their time between servicing listings and representing buyers. Buyer's specialists have their work cut out for them, their job is to preview, and know intimately, every home that is for sale in Big Bear. They must be responsive, answering the phone at all hours and responding to buyer inquiries within minutes. They are good listeners and great communicators and negotiators. There are some individual agents who specialize in representing buyers but the best place to find a buyer's specialist is on a high functioning real estate team. Due to the team's high transactional volume they attract the cream of the crop. Buyer's Agents on a high functioning real estate team will also know about the team's listings before they hit the market. This gives their buyers a competitive advantage in finding "Off Market" properties before they are listed in the MLS for other "off-team" agents to see. Buyer specialists hone their skills working with hundreds of buyers with different interests and real estate goals. They know how to listen to what you want and then they show you the best cabins in Big Bear in your price range. Once they find you the cabin of your dreams they know how to read the sellers motivation to guide you through the negotiations and achieve the best possible outcome for you. Reviews and testimonials are key to finding a great buyer's specialist and you will know you've found a great one when you see reviews like the following
Link to reviews for agents of the Rahill Real Estate Group
I'm writing this letter to let you know how pleased we were about Tarl Wood's caring attitude. Tarl exceeded our expectations. He took time to find out our needs & knew which homes we'd like to see. He gave us his personal knowledge of the area including restaurants, activities & winterization. We feel Tarl is a great person and cares for people's needs. Thank you!
Juan & Irma Orozco


Melissa Evans-Gray helped us with the purchase of our first family home in Sugarloaf CA and I cannot be more complimentary on how fabulous it was to work with her. She is friendly, communicative and quick with responses. She walked us through every step of the way and had some fantastic recommendations to boot. She is without a doubt the best realtor I have ever worked with. I would highly recommend her to anyone in the Big Bear area.
Faye L. Venice, CA


I'm adding a second review, as we have purchased another property since my last one. Everyone we have worked with at Rahill has been wonderful. Our recent experience with Sarah Lassez was been top notch. She knows the mountain well, and is always very forthcoming about the pros and cons of potential properties and areas. She makes time to show us new listings quickly, and is truly such a pleasure to work with. Thanks, Sarah!
Katie M. Los Angeles, CA


An absolute JOY working with Madeline, full stop. My fiance and I were beginning to look for a home up in the Lake Arrowhead area after years of LA/city life. Being first-time homebuyers, work-from-homers, and pretty specific overall in our needs, we were afraid we would never quite find "THE" house after falling in love with the area.

So grateful we found Rahill and Maddi in particular. She worked tirelessly for us for six months, showing us properties, visiting/sending detailed videos of homes we weren't able to go see ourselves, and helping us through an otherwise scary/stressful experience with offers and escrow. We felt taken care of, well-guided and encouraged the whole way through.

Ultimately, we decided to buy a parcel of land instead to build, and despite our (very) changing plans, she patiently stuck with us and brought us "home."

Can't recommend her enough. It's so great to work with someone who truly loves what she does, and genuinely shares the excitement of such an awesome life moment.
Liz S. Los Angeles, CA
I had a great experience with the Rahill group and specifically Hailey Masterson, my agent, to help find a Big Bear cabin. Hailey is a professional and caring real estate agent. She was very accommodating to my requests and organized many virtual showing. She gives additional feedback and comments when she is performing the virtual tours, which are priceless. This saved me a lot of time, driving 3 hours to see a property that I would not buy. When I found the property that I liked, she helped me in every step and went far beyond communication, advice, and guiding me in every step of the process. I am very pleased to work with Hailey and highly recommend her and the Rahill Real Estate Group.
Omid A. Mission Viejo, CA
When my husband and I started searching for a cabin in the Big Bear area, we reached out to Rahill Real Estate and were paired up with Ismael Guttierez. Ismael was so great! I was very particular about the things I wanted in a cabin, but Ismael was on top of it and always sent me great recommendations. 2020 seemed like a crazy year for real estate and the market was bananas, but Ismael really helped us navigate through the craziness and make the best offers we could when we finally found places we liked. I'm happy to say that this winter we'll be enjoying some snow from our new cabin getaway, all thanks to Ismael!
Eila O. Long Beach, CA
---